Scroll
Playing times
Fr 02.06 · 20:00 -

20:50
Admission price
16,50 € | 11,50 € reduced + booking fee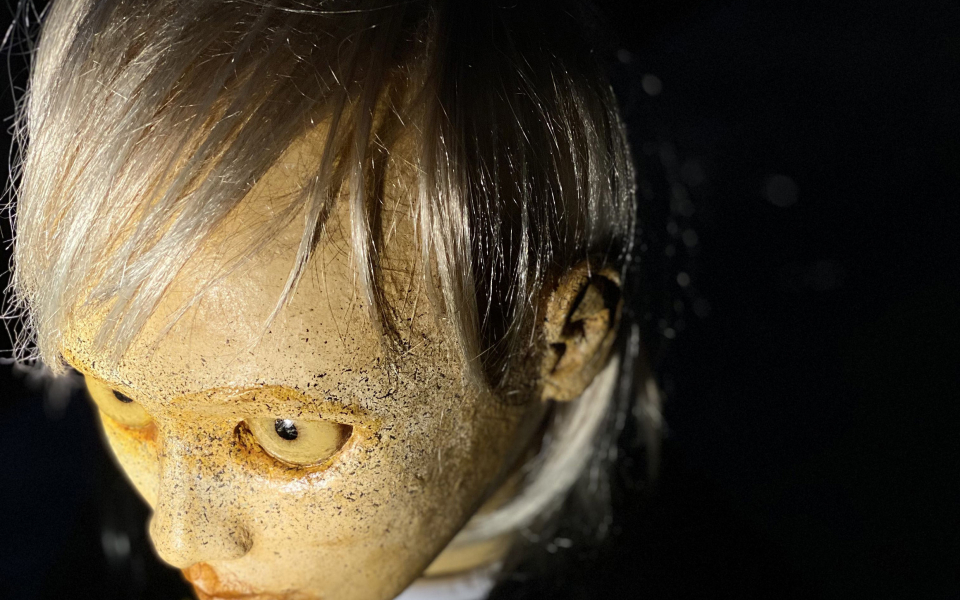 Who are we? What determines our identity? Is it our own self-perception and self-definition? Or is it the view of others and society's view of ourselves? Hero is an examination of and playful exploration of the most diverse facets of a personality. Tibo Gebert starts from his own queer biography with its coming outs and transformations. He overlays it with the myth of superheroes in order to encounter split-off identities in the play on stage – a powerful reflection on becoming visible and invisible.
The performance will also take place as part of the international meeting for figure theater and showcase "FIGURE IT OUT". Program information for the FIGURE IT OUT (June 2-11) is available at www.schaubude.berlin.
The performance is suitable for audiences aged 16 and older.
A continuous, step-free and level access from the street to the building and the event area is available. This is via a separate entrance. Please register your use in advance with the ticket office staff at ticket@schaubude.berlin. There are no barrier-free parking spaces available, but barrier-free sanitary facilities are available. There is space for wheelchairs or walkers in the event hall/area, and it is possible to enter the hall early in consultation with the particularly suitable seat reservation and/or on-site staff. The need must be announced to the box office staff.

The performance includes very dark lighting scenes and intense emotional music is used.

Contact: Réka Vitályos
E-mail: sekretariat@schaubude.berlin
Phone: 030 42 34 314
Play, concept, direction, stage & puppet: Tibo Gebert
Collaboration direction: Joachim Fleischer, Gabriel Hermand-Priquet, Laura Siegmund
Collaboration choreography: Laura Siegmund
Music: Jasmine Guffond
Video: Grit Schuster
Dramaturgical advice: Tim Sandweg
Lighting design: Joachim Fleischer
Costumes: Tibo Gebert, Iris Weber-Auvray
A coproduction with: Festival Mondial des Théâtres de Marionnettes de Charleville-Mézières, Fonds Transfabrik, T-Werk Potsdam, Schaubude Berlin, TJP CDN de Strasbourg Grand Est, Figurteatret i Nordland, Conseil départemental de Seine Saint-Denis; Le Mouffetard − Théâtre des arts de la marionnette à Paris, Théâtre Au fil de l'eau (Pantin), Théâtre des Bergeries (Noisy-le-sec), Le Pavillon (Romainville), Centre Culturel Jean Houdremont (La Courneuve), Le Studio théâtre de Stains, La Maison du théâtre et de la danse (Épinay-sur-Scène), Le Théâtre du Garde-Chasse (Les Lilas), wunder. Internationales Figurentheaterfestival 2022 München, internationales figuren.theater.festival Foto: Joachim Fleischer