Scroll
INTER_SECTION #3.2 – Borrowed Gesture expanded
Playing times
Fr 02.06 · 20:00 -

20:50
Sa 03.06 · 20:00 -

20:50
Admission price
10 € | 8 € reduced + booking fee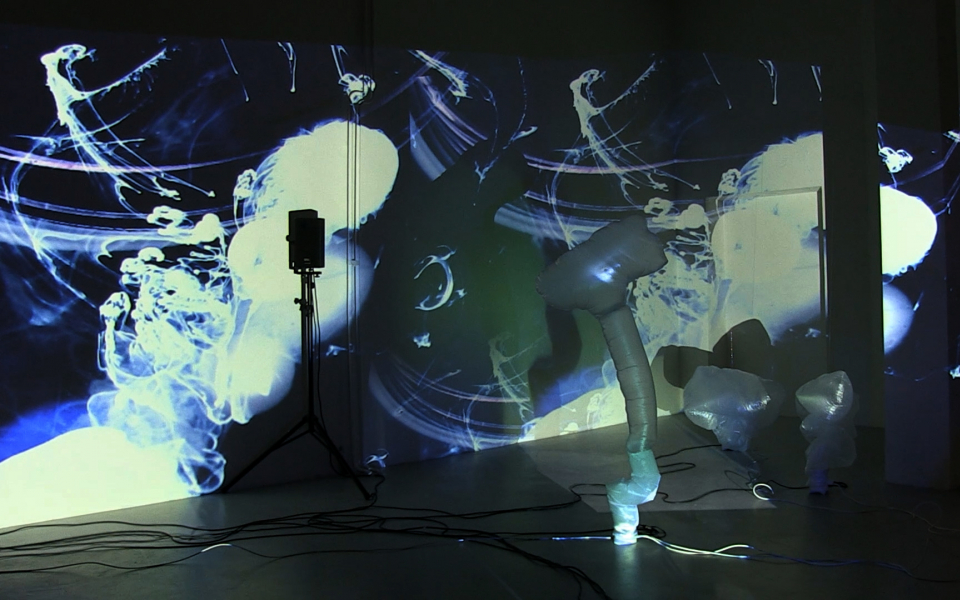 With Borrowed Gesture, the duo INTER_SECTION translates everyday phenomena of digital networking and dependencies in a tonal performative setting and explores the potentials and obstacles of this constellation over the course of a performance in real time. In doing so, they network digitally with a non-human actor – "the third party". An immersive performance of transmedial transmissions is created from the interplay of intentional and random human and non-human actions, one which continuously reformats itself.
A map of the area is available at the entrance gate of Wiesenstrasse 55. The venue is signposted.
Production & Artistic Direction: INTER_SECTION GbR
Performance: Sabine Ercklentz (trumpet, electronics), Claudia Schmitz (moving image on pneumatic sculpture, electronics, Unfolded Screen), Das Dritte (custom-made algorithm)
The performance in 2023 is supported by INM initivative neue musik berlin e.V..
The entire production was supported in 2021 and 2022 by the Fonds Darstellende Künste and Musikfonds with funds from the Federal Government Commissioner for Culture and the Media as part of NEUSTART KULTUR .