Scroll
Children's/Youth Theater, Circus/Aerial Acrobatics
Playing times
Fr 02.06 · 18:00 -

18:55
Sa 03.06 · 20:00 -

20:55
Admission price
12 € | 8 € reduced + booking fee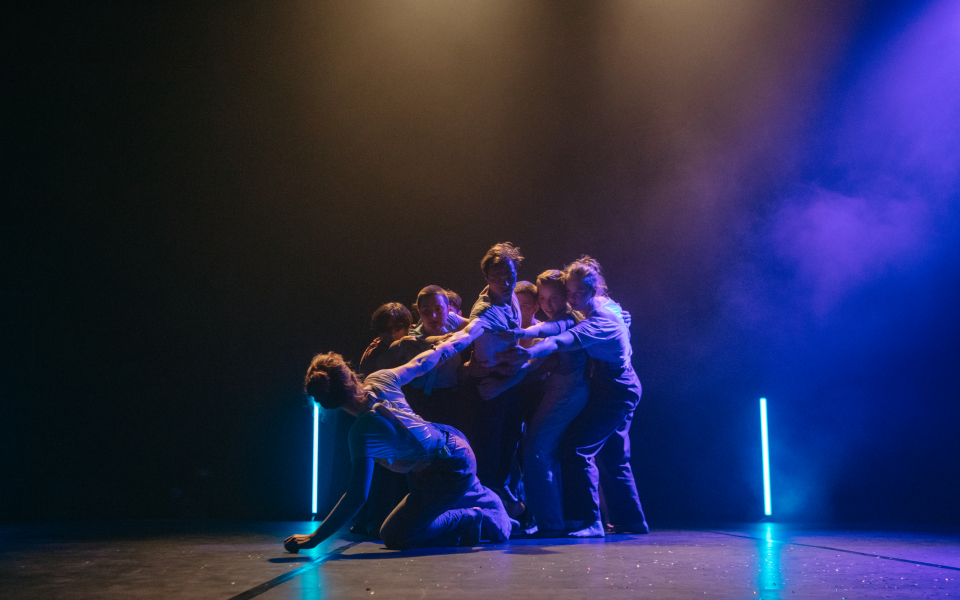 Touch is a fundamental sense of human beings. It helps us to orient ourselves in the world and to define our place in it. It creates trust, warmth and intimacy and does not only tell us something about our counterpart, but also about us and the world in which we live. Using dance and acrobatics, the performers ask themselves what ultimately happens when we no longer give each other the gift of touch. Kartografie der Nähe is a contemporary circus performance that tells a moving story about what it is that makes us human.
On May 31, there will be an introduction workshop for young people and physical follow-up for everybody to "Kartografie der Nähe".
A continuously accessible, step-free and level access (incl. curb ramp) from the street to the building and to the event area with a width of at least 150 cm is available. Barrier-free parking spaces and sanitary facilities are also available. There is space for wheelchairs or walkers in the performance hall/area and there is the possibility of special suitable seat reservation and/or to enter the hall ahead of time.

Rather little German is spoken at the performance, making it suitable for an English-speaking audience as well.

Contact: Christin Elchlepp
E-mail: info@circus-schatzinsel.de
Phone: 030 225 024 61
Performers & Authors: Paula Dieken, Christin Elchlepp, Çiğdem Gerwert, Melina Küchler, Josefin Streeck, Carla Wang, Fryderyk Biehler, Jasper Barckhausen, Edgar Kenneweg, Gregor Kenneweg
Direction & Choreography: Josa Kölbel
Choreography: Martina La Ragione
Costume design: Brigitte Schlögel
Music: Elias Sander, Paul Luis Ott, Jörg Mischke
Lighting design: Jakob Vonau
Production: Circus Schatzinsel
Co-Production: Berlin Circus Production
Supported by Fonds Darstellende Künste with funds from the Federal Government Commissioner for Culture and the Media as part of NEUSTART KULTUR Bezirksamt Berlin Friedrichshain.
Trailer "Kartografie der Nähe"