Scroll
Play through the body and biography
Playing times
We 31.05 · 18:00 -

19:00
Th 01.06 · 18:00 -

19:00
Admission price
15 € | 10 € reduced + booking fee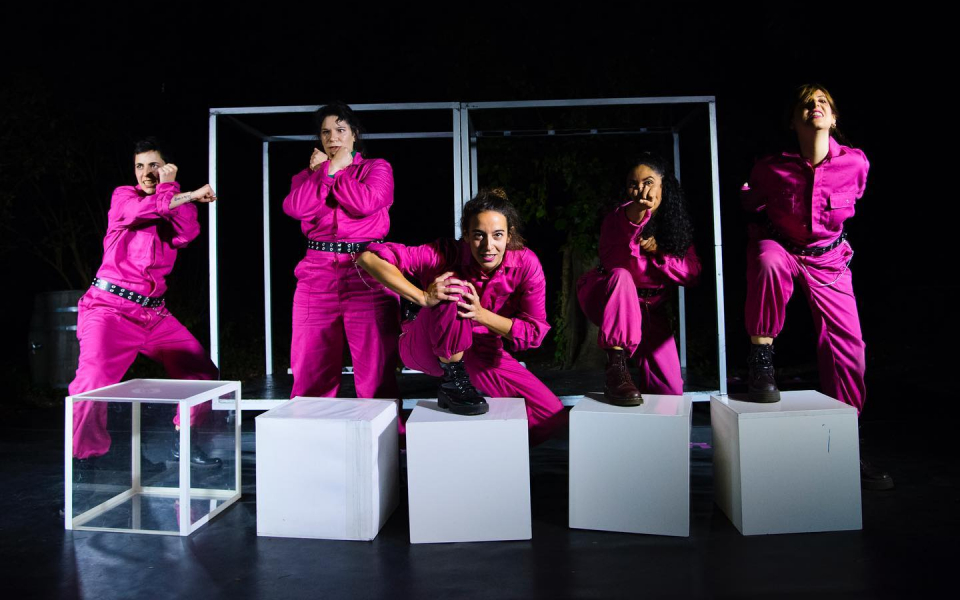 Violence against women is not a problem in socially deprived areas, but instead takes place in all layers of society. MARTA tells the story of two women who simultaneously experience gender violence in their everyday lives. The piece ends with a femicide. The story is told using physical and biographical theater and attempts to invite the audience to understand this topic as a problem for our entire society and which is not a private matter.
On May 31, there will be an introduction workshop for young people and follow-up discussion for everybody on "MARTA."
A continuously accessible, step-free and level access (incl. curb ramp) from the street to the building and to the event area with a width of at least 150 cm is available. Barrier-free parking spaces and sanitary facilities are also available. There is space for wheelchairs or walkers in the event hall/area and there is the possibility of special suitable seat reservation and/or to enter the hall ahead of time.

The performance is in German and Spanish and is suitable for audiences 16 years and older.

Contact: Lara Chahal
E-mail: space@oyoun.de
Phone: 030 68050860
Director: Lorena Valdenegro
Assistant director: Catalina Tello Aranguiz
Set design: Maira Gomez
Music design: Sofía Puertas
Sound: Alicia Moran, Sofía Puertas, Mariby Romero, Marina Cano, Sandra Feferbaum Siemsen
"MARTA" was produced by AQUItheater Berlin and is supported by Fonds Darstellende Künste with funds from the Federal Government Commissioner for Culture and the Media in cooperation with Oyoun, Kultur NeuDenken.