Scroll
Music Theater/Performance
We tell until the end of our days in red -Todod
Theaterensemble PAPILLONS
Playing times
Fr 02.06 · 18:00 -

19:15
Sa 03.06 · 18:00 -

19:15
Admission price
13 € | 8 € reduced + booking fee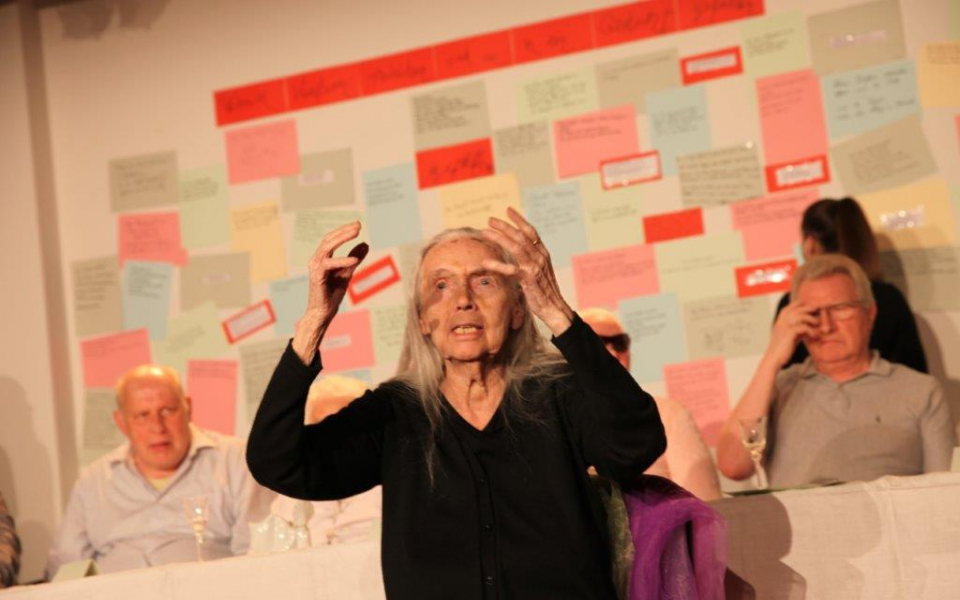 In its poetic and musical reading SCHATTEN SAMMELN, the theater ensemble PAPILLONS connects with the poems of its protagonists which express the worlds of experience of people in old age, some of whom are suffering from dementia. Inspired by the lyrical work of the poet Aldona Gustas, a roommate, and accompanied by the sounds of the viola played by the musician Mike Flemming, poetic miniatures are created that seem to have disappeared behind the veil of forgetting. Rhyming or also not rhyming, an inner world is allowed to speak, at times dramatic and then again full of humor.
A continuously accessible, step-free and level access (incl. curb ramp) from the street to the building and to the event area with a width of at least 150 cm is available. Barrier-free parking spaces and sanitary facilities are also available. Space for wheelchairs or walkers is provided in the event hall/area and there is the possibility of special suitable seat reservation and/or to enter the hall ahead of time.

Contact: Katrin Schmell
E-mail: katrin.schmell@unionhilfswerk.de
Phone: 0152 54 52 38 43
By and with: Fatima Deiries, Aldona Gustas (in memoriam), Siegrid Konopka (guest),Ursula Krupp, Ella Kunzke (guest), Maria Langgärtner (in memoriam), Bernd Leichsenring, Adelheid Lücke, Heiderose Neumann (harmonica), Thorsten Schüler, Udo Thiel, Herbert Wehe, Elvira Werthmüller
Artistic direction, concept, direction: Christine Vogt
Live music, compositions: Mike Flemming (viola)
Narrator: Michael Hanemann
Consulting poems: Aldona Gustas
Lighting design, sound: Sven Keufner
Photos: Christa Mayer
Assistance: Claudia Blaich, Frances Kant
With thanks to Katrin Schmell (facility management), Juliane Kaptain (care management), nursing and care staff and Theater Strahl. A production of Stiftung Unionhilfswerk Berlin 2022. With special thanks to Martina Seefeld (Corona Teststation of SLB-Services). Sponsored by Stiftung Unionhilfswerk Berlin and Seidenspur e. V.
A co-production with painter-poet Aldona Gustas and her gallery (Browse Galery Berlin), composer/musician Mike Flemming, actor Michael Hanemann. A grant from the Stiftung Unionhilfswerk Berlin and Seidenspur e.V. Previous grants: Fonds Darstellende Künste "Take Action", Forberg-Schneider Foundation, GVL Kulturförderung. In view of intergenerational projects (2021 and 2023) Collaboration with the elementary school on the Campus Rütli Berlin-Neukölln. Collaboration (2019) with the Neukölln Opera and Theater Strahl. For the planned pilot project in cooperation with Prof. Dr. S. Seeling "Institut für Duale Studiengänge" (FB Pflegewissenschaften, Hochschule Osnabrück), Prof. Dr. Ferenc Jadi (visual artist and professor (ret.), Universität Dortmund), Prof. Dr. H. Seitz (FH Potsdam FB Ästhetische Praxis und Theorie).