Scroll
Playing times
Th 01.06 · 22:00 -

22:35
Fr 02.06 · 22:00 -

22:35
Admission price
15 € | 10 € reduced + booking fee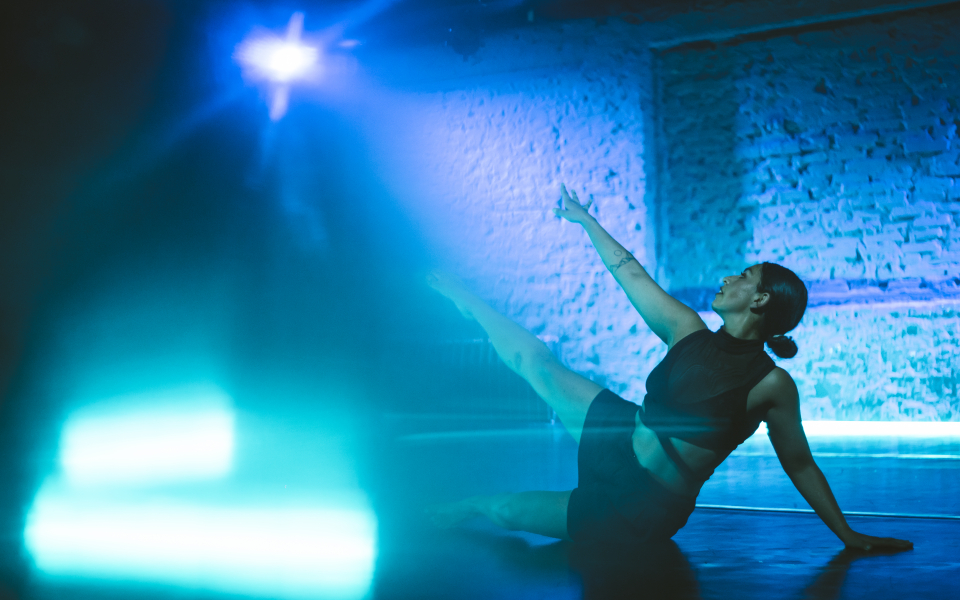 Suspended Earth is a solo dance piece that deals with the experience of migrating from South America to Europe. It is about the process of adapting to changes and about creating a place in the brain in order to mix and understand both cultures. Pamela Moraga moves through impressions of re-experiencing memories, the learning of a new language and the assimilation of new habits that are inscribed into this new identity.
The performance is suitable for an audience 13 years and older.
A continuous, step-free and level access (incl. curb ramp) from the street to the building and the event area is available. The ramp for wheelchair users is located in the courtyard and allows access to the theater through the stage. It is requested that you notify the theater in advance so that access can be arranged as best as possible.
However, there are no accessible parking spaces available, as well as wheelchair accessible restrooms. However, there is the possibility of parking a car in the courtyard upon request. There is space for wheelchairs or walkers in the performance hall/area, and there is the option of special appropriate seating and/or entering the hall ahead of time.

The performance includes some abrupt light changes and moments of total darkness, as well as loud music. The performance is in German, Spanish and English and is suitable for audiences 13 years and older

Contact: Paolo Grazzi
E-mail: veranstaltung@expedition-metropolis.de
Phone: 030 47 98 01 52
Choreography, direction & performance: Pamela Moraga
Dramaturgy Assistance & production: Tomoya Kawamura
Sound Design: Cristobal Ruffo
Audio Visual Material & support: Asphalt Kollektiv Berlin e.v (Lukas Hamm)
A production supported by the Fonds Darstellende Künste with funds from the Federal Government Commissioner for Culture and the Media within the framework of NEUSTART KULTUR and by the aid program DIS-TANZEN of the Dachverband Tanz Deutschland.