Scroll
Music Theater/Performance
Three pieces for an absent inside piano
Playing times
We 31.05 · 20:00 -

22:00
Th 01.06 · 20:00 -

22:00
Admission price
16,50 € | 11 € reduced + booking fee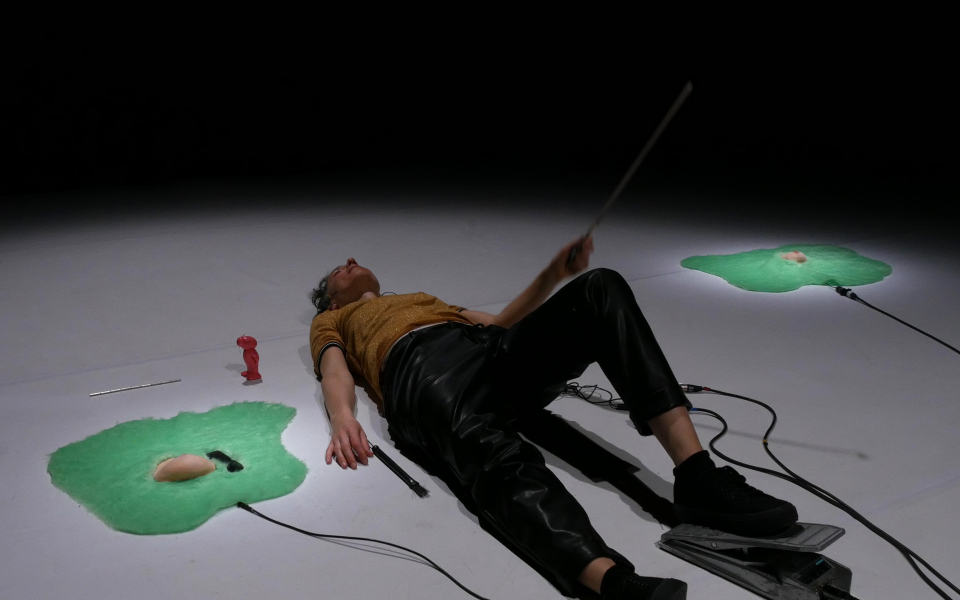 Andrea Neumann has played the same instrument for 20 years: a self-made piano frame without keys. Three pieces have been written for Tossed Sounds: by the performer Antonia Baehr, the dancer Fernanda Farah and by Andrea Neumann herself – whereby all three are subject to a single condition: the instrument is absent from the stage. What remains of a musician without their instrument? What traces are left behind? And what does the audience hear?
A continuous, step-free and level access (incl. curb ramp) from the street to the building and to the event area with a width of at least 150 cm is available. The performance takes place in the hall, which is at ground level. Unfortunately, the bar can only be reached via stairs on the second floor. There are also barrier-free parking spaces and sanitary facilities available. However, the barrier-free parking spaces can only be found in the public space on the street side. The theater cannot offer its own parking spaces. There is space for wheelchairs or walkers in the performance hall/area and there is the possibility of special suitable seat reservation and/or to enter the hall ahead of time. Advance notice is requested at the time of ticket purchase.

The play uses no text - everything unfolds visually and aurally. An introduction to the theme will be offered at the beginning of the performance.

Contact: Tina Pfurr
E-mail: tina.pfurr@ballhausost.de
Phone: 030 440 49 250
Composition: Antonia Baehr, Fernanda Farah, Andrea Neumann
Performance: Bryan Eubanks, Andrea Neumann
Lighting design: Raquel Rosildete
Sound (inside the piano): Bryan Eubanks
Dramaturgy: Sabine Ercklentz
A production by Andrea Neumann in cooperation with Ballhaus Ost. Supported by the Initiative Neue Musik Berlin, the Musikfonds and the Bezirksamt Pankow von Berlin, Amt für Weiterbildung und Kultur - Fachbereich Kunst und Kultur.