Scroll
In Public Space, Music Theater/Performance
ALLES OFFEN #1 Dir will ich leben hier
Playing times
Th 01.06 · 20:00 -

21:00
Fr 02.06 · 20:00 -

21:00
Sa 03.06 · 20:00 -

21:00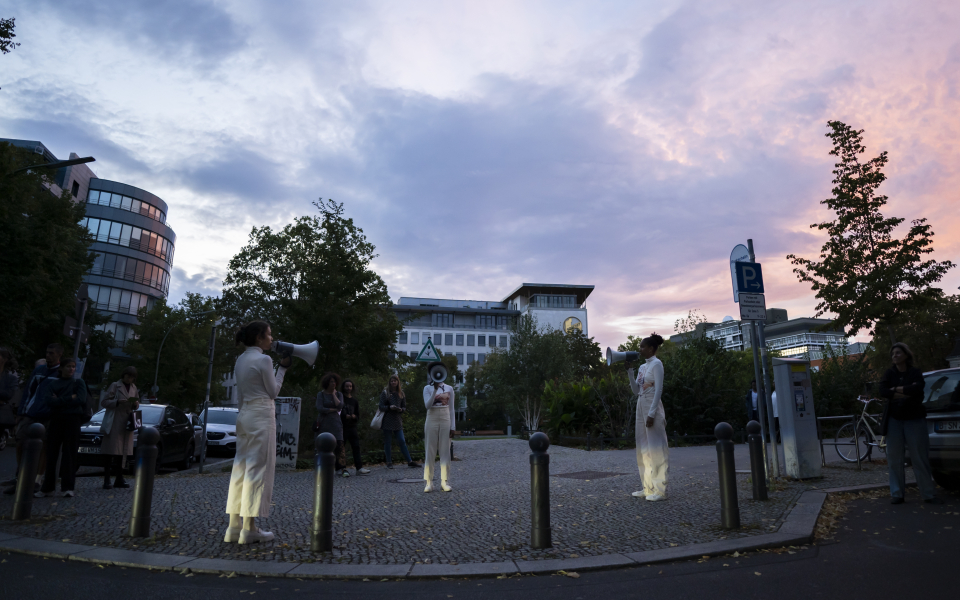 The project connects the cultural heritage of the ancient chorus as the birth of drama with the performative use of stores, clubs, galleries and coffee shops. ALLES OFFEN is the attempt to give people from a wide variety of cultures a voice throughout looping communication streams just as the Greek chorus was once the ideal commentator for that which the individual did not wish to say.
After "ALL OFFEN #1" Novoflot will show "ALL OFFEN #3 Single Act" at 9pm. The location will be announced at a later date.
On June 1, an introduction workshop on "ALL OPEN #1" will take place.
With: Adriana Amade (vocals), Emma Silva Jenner (vocals), Renae Shadler (dance), Lisa Marie Stojčev (acting), Aminata Toscano (vocals), Sven Weymann (performance).
As well as Antonis Anissegos (keys), Hayden Chisholm (saxophone), DK Heroes (Željko Stefanovic violin, vocals - Darko Stojkovic - guitar, Dragan Stefanovic - keyboards), Capoeira Akademie Berlin, the Wind Orchestra Köpenick and others.

Director: Sven Holm
Musical direction: Vicente Larrañaga
Compositions: Antonis Anissegos, Hayden Chisholm
Set design: Elisa Limberg
Film: Mirko Borscht
Lighting: Ismael Schott
Sound: Jonathan Bruns
Company Management and Production: Dörte Wolter
Production: Axel Lambrette, Rania Mavriki
Communication: k3 berlin
"Alles Offen #1 - Dir will ich leben hier" is supported by the Musikfonds with funds from the Federal Government Commissioner for Culture and the Media as part of NEUSTART KULTUR and the Berlin Senate Chancellery for Culture and Europe.