Scroll
interdisciplinary performative investigation
Zé de Paiva, Vinicius Giusti, Carla Bessa & Anete Colacioppo
Playing times
Th 01.06 · 22:00 -

23:00
Fr 02.06 · 22:00 -

23:00
Sa 03.06 · 16:00 -

17:00
Admission price
pay what you want 10 € to 20 €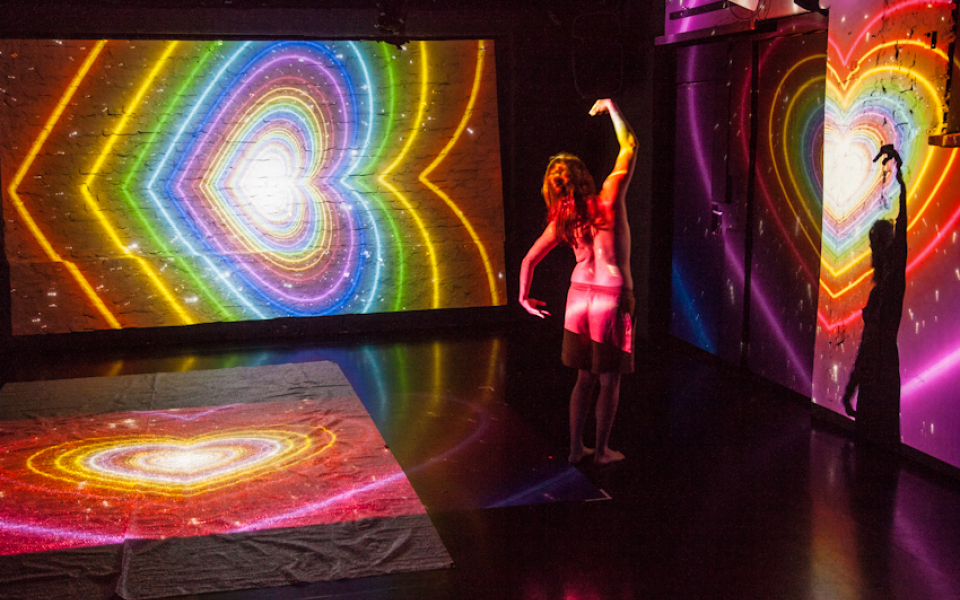 The multimedia performance Bubble Sinn investigates the sense and/or senselessness of our life and work. The artist collective interviewed friends, audience members and themselves and the questions they asked were: what makes sense for you and what does not make any sense? The answers are conveyed in the form of text, gestures, light and sounds, which create even more confusion in the border area between dance, video performance, acting, sound and electronic art performance.
Continuously accessible, step-free and level access (incl. curb ramp) from the street to the building and to the event area of a width of at least 150 cm is available. No barrier-free parking spaces are available, but wheelchair-accessible restrooms are provided. There is space for wheelchairs or walkers in the event hall/area and there is the possibility of special suitable seat reservation and/or to enter the hall ahead of time. Advance registration is requested.

The performance will be in German and Portuguese and there will be moments of aprupt light changes.

Contact: Stefan Wolf
E-mail: karten@ackerstadtpalast.de
Phone: 030 44 100 09
By and with: Zé de Paiva, Vinicius Giusti, Carla Bessa & Anete Colacioppo.
Text: Bruno Latour (kindly approved) & Carla Bessa
A co-production of Acker Stadt Palast and supported by Fonds Darstellende Künste with funds from the Federal Government Commissioner for Culture and the Media as part of NEUSTART KULTUR.