Scroll
Site-specific dance performance for public space
Mirjam Gurtner & Ensemble
Playing times
We 31.05 · 18:00 -

19:00
Fr 02.06 · 20:00 -

21:00
Sa 03.06 · 16:00 -

17:00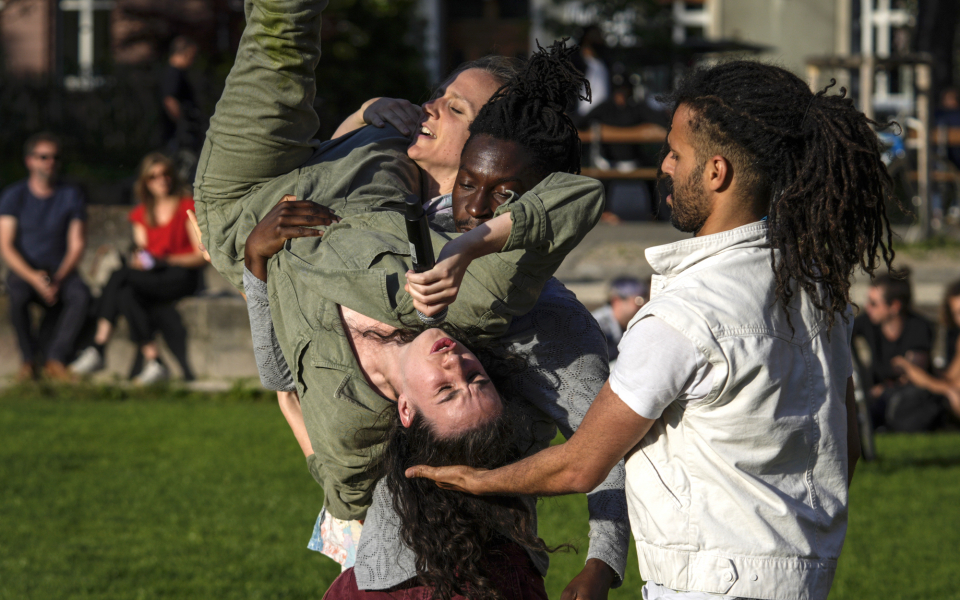 Driven by the powerful sound of a one-woman band, four dancers surprise the audience on their journey through different conditions of performance. Between order and chaos, between appearing and disappearing, they throw our notions of risk, intimacy and community into question. Gravity meets weightlessness, falling meets flying. PLAY combines dance and live music to create an interdisciplinary performance that invites the audience to experience everyday places anew. Can a life together be conceived anew through play?
"PLAY" was conceived as an accessible performance in collaboration with Berlin artists Sophia Neises and Xenia Taniko, anchoring the creation of access as a creative element in its own right. We offer live audio description (Felix Koch, Johanna Krins), tactile guidance and a pick-up service. 
The performance is suitable for children.



Information Access: The performance will take place at Tempelhofer Feld, Am Luftgarten, 12049 Berlin-Neukölln (approx.10min walking distance from the barrier-free main entrance Herrfurthstrasse). Meeting point is at the main entrance Herrfurthstrasse, 30min before the performance starts. The spectators decide for themselves from where they want to watch. They can move freely during the performance, leave the place at any time and return to it. Chairs and cushions will be provided. Sounds are welcome. 



A one-woman band plays live. The music does not play continuously. There are individual scenes where the drums are at a high volume. Proximity to the musician can be self-determined. 



The nearest accessible restrooms are located directly at the performance venue, as well as at the main entrance Herrfurthstrasse. At the main entrances Columbiadamm and Herrfurthstrasse, individual car parking spaces are reserved for people with disabilities in the public streetscape (parking lot supplementary sign 1044-10).
Please remember to wear weather-appropriate clothing and bring sunscreen or umbrella, as well as drinks. The production will provide seat cushions and folding chairs, but picnic blankets are welcome.



Registration audio description/pick-up service and more information at: Aurora Kellermann, info@tatwerk-berlin.de, 0151 219 16800
Artistic direction & choreography: Mirjam Gurtner
Performance: Aly Khamees, Katy Hewison, Melissa Kieffer, Michael Kaddu (Original cast: Aly Khamees, Michael Kaddu, Diethild Meier, Makisig Akin)
Music: Teresa Riemann (Original score: Jana Sotzko)
Scenography: Lisa Premke
Dramaturgy: Maya Weinberg
Costumes: Nic Tillein
Production management: Chris Wohlrab/TATWERK, Pascal Moor/Spring Production
Co-production: Theater ROXY Birsfelden, 48-Stunden-Neukölln Festival Berlin
Cooperation: TATWERK
A production by Mirjam Gürtner. In co-production with Theater ROXY Birsfelden and 48-Stunden-Neukölln Festival Berlin. The Berlin revival takes place in cooperation with Tatwerk Berlin. Supported by Fonds Darstellende Künste e.V., Fachausschuss Tanz und Theater BS/BL, Hauptstadtkulturfonds Berlin, Pro Helvetia, reso Tanznetzwerk Schweiz, Stanley Thomas Johnson Stiftung, Jacqueline Spengler Stiftung, Fondation Nestlé pour l'Art, Schweizerische Interpretenstiftung SIS, Stiftung Corymbo, Tatwerk Berlin.